Raspberry, Blueberry, Mango and Lemon Balsamic Vinegars – Beautiful summer oil to drizzle and enhance your dishes.
1830 Bremond Fils Balsamic Vinegars with Fruit
1830 Maison Bremond has selected aged and fragrant balsamic vinegar obtained from the best Modena grapes from the Emilia-Romagna region in Italy. Famous throughout the world, these exceptional grape varieties give life to truly rare & precious culinary treasures; like those of Tiziana Zini who watches over the vinegar barrels that her family has been making since 1892, and guarantees their excellence, from the first to the last drop.
Bremond Fils Raspberry Pulp Vinegar
Give a touch of fruity sweetness and acidity to your dishes. This raspberry vinegar contains a lot of raspberry pulp, which gives it a rich and real flavour of raspberries.
Food pairings: Sauces and salad dressing, salad, bacon, asparagus, fresh fruit salads. Goes very well with basil oil.
Recipes made with vinegar with raspberry pulp…
Nectarine and roasted strawberries.
Strawberry salad with basil, almond and black balsamic pearls.
Duck Magret with boletus cream – crushed potatoes with truffle
Festive cocktail – Rasberries & Champagne
Fresh salad with raspberry pulp vinegar Recipe
• 150g of mozzarella balls
• Raspberry pulp vinegar – 100ml
• 6 small red cluster tomatoes, elongated
• 8 small cherry tomatoes
• 30 g of brown sugar
• juice of a young lemon
• 250 g of raspberries
• fresh or powdered ginger
• salt and pepper
PREPARATION
1 Prepare the candied tomatoes. Boil the tomatoes for 10 minutes in boiling water (except the cherry tomatoes). Drain them then and cool them immediately. Peel, quarter and remove seeds and juice but keep it. Preheat the oven to 90 ° C. Place the tomato quarters on the baking paper. Sprinkle with half the brown sugar and drizzle with lemon juice. Bake for 1 hour of cooking. When the tomatoes are well candied, set them aside.
2 Prepare the tomato water. Mix the seeds and tomato juice with a little salt and pepper and a tablespoon of sugar. Pass through a sieve. Pour the juice into a saucepan, add the cardamom seeds without the skin and simmer. Cover and let steep for 30 minutes.
3 Add the cherry tomatoes and the rest of the fresh raspberries. Drizzle with a squeeze of lemon juice. Drizzle generously with the juice of the tomato water and the raspberry pulp vinegar. At the end, sprinkle with powdered ginger or place pieces of the freshly grated ginger. You can also add a few balls of Maison Brémond 1830 balsamic;
Festive Cocktail – Champagne & Rasberries
– 500 g of raspberries
– 10 cl of vinegar with raspberry pulp
– Raspberry pearls of balsamic vinegar
– The juice of a lemon
– 20 cl of white rhum
– Cane sugar syrup
– Champagne to complete the flutes
In a salad bowl, crush the raspberries with a fork to collect the juice, mixed to the flesh, in order to obtain a creamy texture. Add 10 cl of vinegar with raspberry pulp. You will obtain what is called a shrub: a mix of vinegar and fruit destined to be used in a cocktail. Add 20cl of white rhum and the juice of a lemon. Mix it all. Pour a bit of this mixture at the bottom of each flute, add a few raspberry pearls of balsamic vinegar, some cane sugar syrup and complete with champagne. Don't forget to add a stirrer to each flute.
Mocktail – alcohol-free version: Replace champagne by lemonade.
Baked nectarines and strawberries
4 nectarines
28 strawberries
1 spoonful of all flower honey
A sprig of rosemary
4 teaspoons of Pressed Lime Oil
4 teaspoons of Balsamic Vinegar with Raspberry
1. Cut the nectarines in 8 segments and remove the leaves from the strawberries.
2. Take the rosemary leaves off the stems. Leave to one side.
3. Melt the mullti-flower honey in a frying pan until you obtain a light caramel.
4. Add the nectarine segments and mix well. Add the rosemary leaves and bake in a low oven for 2-3 minutes.
5. Add 20 strawberries to the pan and cook for 20 seconds.
6. Cut the remaining strawberries in slices.
7. Arrange the baked fruit and strawberry slices on a plate.
8. Pour 1 teaspoon of Lemon-Flavoured Oil and 1 teaspoon of Balsamic Vinegar with Raspberry as the final touch.
1830 Bremond Fils Balsamic Vinegar with Blueberry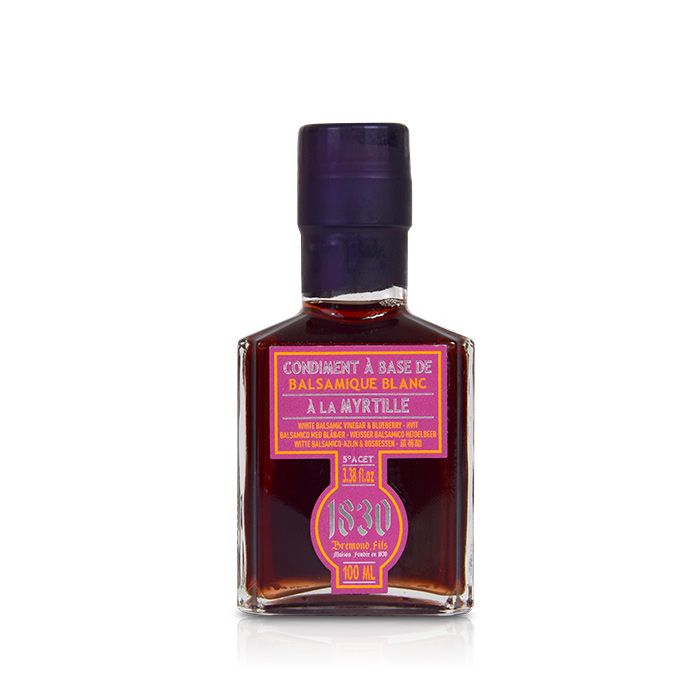 A balanced blend of white wine vinegar and blueberry juice..
Food pairings: Lamb, red meats, game, vegetables, salad, cheese, dessert and ice cream.
Apples and Dried Fruit, Caramel Recipe
4 apples: reine des reinettes, royal gala, chantecler…
6 dried figs
6 dried apricots
50 g golden raisins
50 g mixed dried fruit: blanched almonds, pine nuts, pecans…
1 vanilla pod
1 cinnamon stick
4 grinding Black Voatsiperifery pepper
2 cloves
2 chips of star anise
2 spoonfuls of brown sugar
4 spoonfuls of Balsamic Vinegar with Blueberry
2 spooonfuls of Pressed lime Oil
2 spoonfuls of Fruity Green Olive Oil
25 g butter
PREPARATION
1. Cut the figs and apricots into little cubes; chop the almonds and pecans coarsely.
2. Pour half the Balsamic Vinegar with Blueberry into a saucepan, bring to the boil with the vanilla pod cut in half lengthwise and then in pieces, the cinnamon, the star anise, pepper and cloves. Take the apricots off the stove ad add the figs, apricots, raisins, pine nuts, almonds and pecan nuts.
Mix, cover and let the fruit absorb the Balsamic Vinegar.
3. Peel the apples and cut them in 3 pieces crosswise. Remove the core. Heat the Pressed Lime Oil and the Olive Oil in a big non-stick frying pan, add the butter and brown the apples slices lightly. Add the sugar and turn over the slices of apple in this mixture, until they are tender and melting and covered with a velvety juice.
4. Pour the fruit from the saucepan into the frying panused to cook the apples.
Mix well: the fruit are covered in the same juice as the apples.
5. Make the slices of apple into apple-shapes and put dried fruit between each slice.
Serve warm or at room temperature, as is or with whipped cream, or to go with a hot gras chaud or a duck fillet…
Bremond Fils Balsamic Vinegar with Lemon 
White balsamic vinegar is made from the must of Trebbiano bianco, an Italian white grape variety produced in Modena in the Emilia-Romagna region, and is then filtered to make it clear and transparent. It's already a pure nectar. When combined with fresh Italian lemon juice, this white balsamic vinegar with lemon, low in acidity ( 3.5°) has an tart sweetness which reminds us of candied lemon.
Pure candied lemon juice!
Food pairings: seafood, white fish, fish tartar, carpaccio, quinoa, tabbouleh, tagine, lamb, chicken, salad, fruit, cocktail..
Scallops with fruit Recipe
12 scallops
1 conference pear
1 royal gala apple
2 endive hearts
4 spoonfuls White Balsamic Vinegar and Lemon
1 spoonfuls Extra Virgin Fruity Mature Olive oil
Fleur de Sel salt, black organic Kerala pepper
25 g butter
1. Rinse the apple and the pear and cut them in 4 lengthwise. Rinse the endives, wipe them and cut in half.
2. Brush the scallops lightly with olive oil and cook them in a frying pan for 2 minutes, turning them half way through. Keep them warm between two plates.
3. Put the slices of apple and pear in the frying pan and fry until golden brown, regularly adding white Balsamic vinegar and Lemon flavoured oil. When they are soft, put them on 4 plates.
Heat the scallops quickly in the frying pan before adding them to the plates, with the half endives and drizzle a little white Balsamic Vinegar  on them.
4. Reduce the juices of the fruit and scallops in the frying pan and pour over the plates. Serve immediately.
Ceviche with white balsamic vinegar with lemon Recipe
2 avocados
2 lemons
600 g of boned white fish
1 mango
5 green onions
1 soupspoon of white balsamic vinegar with lemon
50 ml Héritage olive oil
White Phu Quoc pepper
Camargue Fleur de sel salt
1 bunch of coriander
1. Cut the avocados into little pieces. Mix them with the lemon juice and a few sprigs of finely chopped coriander until you obtain a cream. Leave in a cool place.
2. Cut the fish in little pieces and place in a bowl. Leave in a cool place.
3. Divide the mango into little cubes, cut the green onions into large pieces and coarsely chop a sprig of coriander.
4. Mix the fish, mango, pieces of green onion, olive oil, juice of the second lemon and white balsamic vinegar with lemon and the coriander.
5. Add salt and pepper to taste. Put in a cool place for 30 minutes. Your ceviche is ready.
6. Serve the cream of avocado as a side dish.
Bremond Fils Balsamic Vinegar with Mango 
Food pairings: Salad, fish and seafood, scallops, fruit salad and desserts.
Recipes made with mango balsamic…
Red pepper soup
Chicken salad with citrus fruits
Burned cream with tangerine with an orange salad
Grilled mussels with chili oil – balsamic mango
Strawberry salad with basil, almond and black balsamic pearls
Salmon with chili oil and mango balsamic
Grilled fruit with almond cream
Grilled pineapples in chilli oil
Chicken salad with Citrus Fruit
1 chicken breast
1 spoonful Fleur de Sel salt with Espelette pepper
1 spoonful Huile de Tous les Jours oil
4 spoonfuls Héritage olive oil
2 oranges
2 pink grapefruit
1/2 rocket salad
2 avocados
2 spoonfuls Mandarin Balsamic Vinegar
1 spoonful Multi-Flower Honey
red Phu Quoc pepper
1. Sprinkle Fleur de Sel salt with Espelette pepper on the chicken breasts.
2. Cook the chicken on low heat with the Huile deTtous les Jours oil. Leave to one side.
3. Peel the oranges and the grapefruit.
4. Separate the segments of the citrus fruit. Place in a salad bowl.
5. Cut the avocados and cooked chicken into small cubes and add to the vegetables.
6. Add the rocket salad and mix gently. Leave to one side.
7. Prepare the dressing with the Héritage oil, the Mandarin Balsamic Vinegar and the Fleur de Sel salt with Espelette pepper.
8. Pour the dressing over the salad.
9. Season with the red Phu Quoc pepper and a light drizzle of Multi-flower Honey.
A nutritious smoothie, made from mango known for its antioxidant and lemon properties perfect for boosting the immune system.
We hope you will enjoy these beautiful flavoured Balsamic Vinegars with the added flavour of sweet fruit for an exquisite tasting experience.