Herma's News – Herma's Magical Celebration – Herma's Open House 2019
I heard the bells on Christmas Day. Their old, familiar carols play. And wild and sweet the words repeat of peace on earth, good-will to men! – Henry Wadsworth Longfellow
We cordially invite you to attend…
Herma's 26th Annual Christmas Open House
to take place 11 a.m. to 3 p.m. in the Studio and Cheese Shop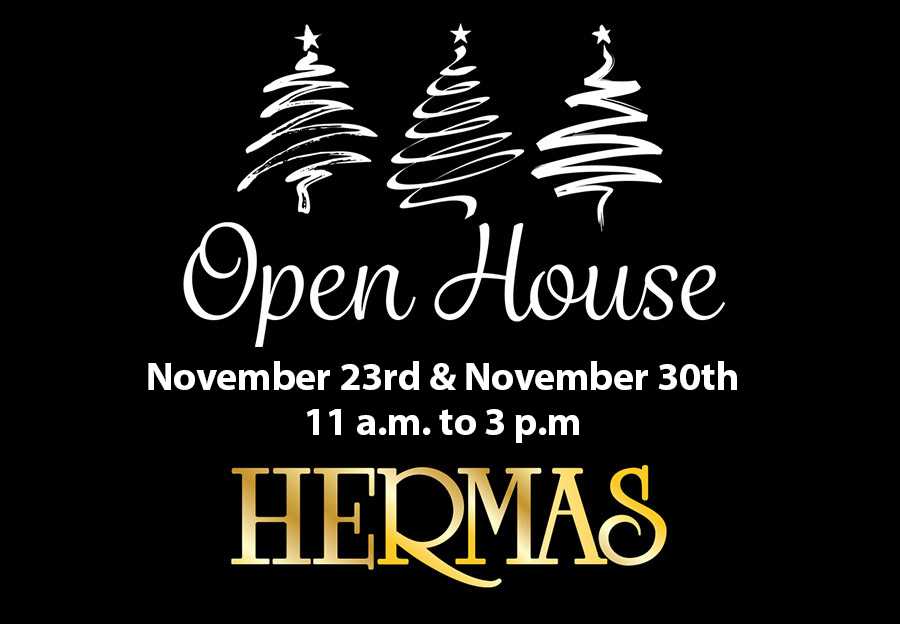 This week we will be featuring…
Herma's Magical Celebration
Herma has a unique, elegant style that exudes warmth and magic. This Saturday she will be offering up this same warmth, charm and magic as she hosts another Open House event.
She will be offering up delicious foods that she herself enjoys when throwing dinner parties. And of course, foods sampled at the Open House have been specially chosen by Herma and are available for purchase at her store. Amongst foods presented for tasting will be…
Kasseler Smoked Pork Chops – Bitterballen (a Dutch specialty) – Goudas and other cheeses from around the world – Panettone – Prosciutto – Porchetta – Fennel Salami – Hors d'oeuvres using Herma's Signature Products  – & some surprises
This Saturday we welcome you to enjoy the hospitality of Herma!
Beautiful Panettone for the Holidays
Panettone, or big bread, as it is translated in English, is a holiday tradition in Italy. It is often given as a gift or laid out on a table for holiday feasting. This sweet bread is enjoyed at tea time, as a dessert, and even for breakfast.
Herma has been said to enjoy it Christmas morning with Godiva Coffee, Prosecco, and thin slices of Gouda. The beautiful packaging of this delicious cake makes this the perfect hostess gift.
Arriving just in time for weekend shopping…
The long awaited, hand-wrapped holiday Panettone we enjoy supplying each year is expected to arrive just in time for the weekend. We can't wait to see what this year's glamorous packaging looks like.
Herma's Gift Baskets
Herma's gift baskets for the holidays are stunning. If you would like one created especially for your gift-giving needs, call 905-885-9250 or stop by front desk.
Herma's Cheese Shop 
Our first wave of specially chosen cheeses for holiday entertaining arrives this week and we will certainly be busy this week slicing, cutting and packaging as fast as we can in order to have these unique, holiday cheeses ready for purchase this weekend.
Be sure to stop by on Saturday for lots of lovely sampling in Herma's Cheese Shop.
NEW at Herma's
For those that like Cheddar…
Cheddar Truckle
This is Ford Farm's award-winning West Country Farmhouse Cheddar. Absolutely delicious! It is mature with a range of contrasting flavours from sweet and creamy to tangy and nutty. This lovely cheese is encased in wax to preserve its freshness and then wrapped in pretty cheese cloth.
Dorset Drum's Mature Farmhouse Cheddar
Setting a new standard for cheddar excellence is a perfectly aged cheddar hand-dipped in black wax. We love the sweet and tangy flavour of this exceptional cheddar. As the name implies, Dorset Drum is created from cows that graze the countryside of Dorset. Find this drum-shaped cheddar beautifully packaged in Union Jack box.
Cheese Trays for the Holidays
If you would like a cheese and charcuterie platter custom-made for your holiday celebration, call 905-885-9250 or stop by Herma's Cheese Counter. Three days notice is appreciated.
Have a wonderful weekend. We look forward to seeing you!
Sincerely,
Meredith Ender
Communications Coordinator
Herma's Fine Foods & Gifts