Herma's News – Guest Margot Silver in the Studio, Black Friday and Gift Ideas
Christmas is a tonic for our souls. It moves us to think of others rather than of ourselves. It directs our thoughts to giving. – B. C. Forbes
Dear Customers,
Be sure to join us for the 2nd Saturday of our 25th Anniversary Holiday Open House. Special guests will be at Herma's offering delicious foods and advice on how to use their products. Get inspired for the holidays!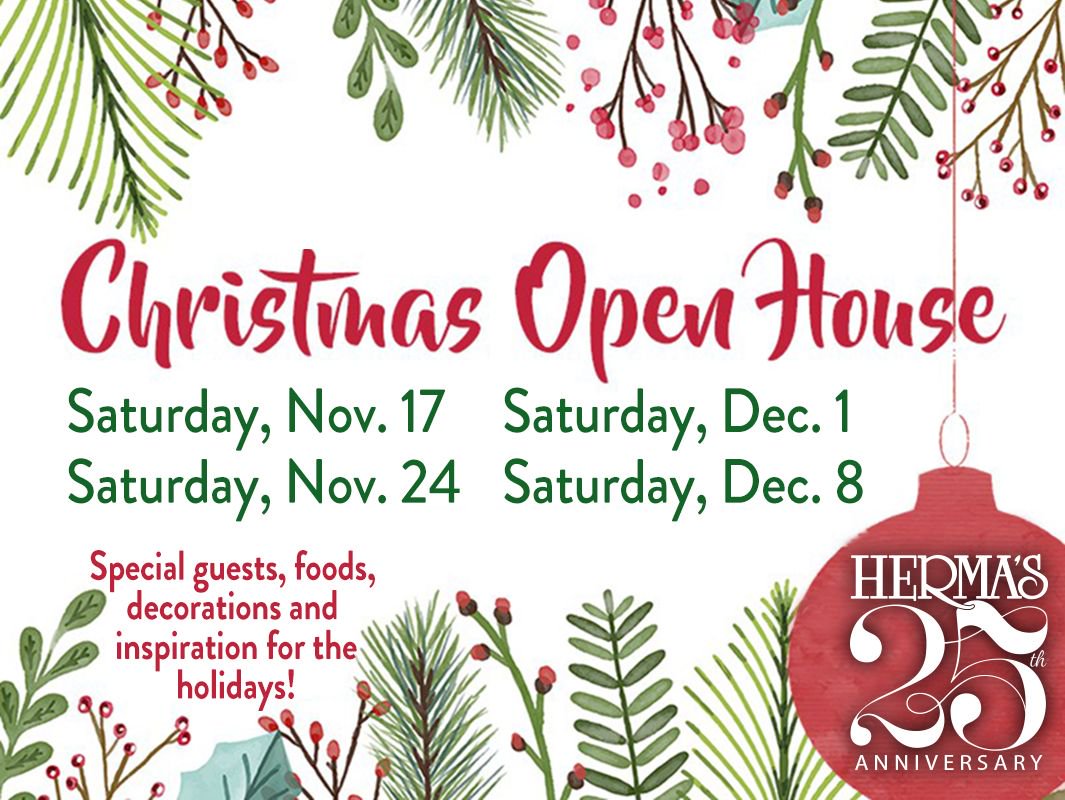 Margot and A Taste of Spain, O

lé!
Saturday, November 24th, from 10 a.m. to 3 p.m. in the Studio
Consider serving exotic and exciting Spanish dishes to your guests this holiday season.
Margot Silver will be offering food samples and sharing her expertise on how to create delicious Paella along with an  assortment of Tapas dishes. She will also be presenting her delicious Risotto.
We are very excited to have her join us again this year as she always amazes us with her infectious enthusiasm and wealth of culinary knowledge. You won't want to miss!
Lampe Berger Consultation with Elizabeth Martin
This Saturday, November 24th,  is the perfect time to purchase your very own Lampe Berger or to give as gifts. Elizabeth Martin, our Lampe Berger Representative, will be visiting Herma's, answering any questions you may have concerning your Lampe Berger lamps. Don't let this opportunity to speak with her pass you by.
Lampe Berger – 120 Years of History
Originally designed to purify the air of hospital rooms at the beginning of the 20th century, the little lamp of the pharmacy technician, Mr. Berger, quickly enjoyed phenomenal success with the public. It gradually became a style icon, appreciated as much for its elegant lines as its delicate fragrances and used by leading figures like Coco Chanel, Picasso, Colette and Jean Cocteau. – Maison Berger
Gift Ideas – Toast the New Year in style!
At Herma's we have an entire department dedicated to the celebration of drink.
We are very proud of our large selection of glassware – crystal that will satisfy your sense of style and choice of drink. Not only will you want to toast the New Year with a certain flare, glassware and drinking accessories also make fabulous gifts for those that value a good drink. Find the following at Herma's…
Nachtmann – Spiegelau – Chef & Sommelier – Pirouette Whiskey Glass – Peugeot's Les Impitoyables Whiskey Tasting Set – Final Touch's Port Sippers – Silver Flasks – Craft Beer Tasting Kits – Wine Openers – Metal Cubes – and so much more
Black Friday – Savings at Herma's
ALL Caldrea products 50% off (while supply lasts)
Emile Henry Stew Pot Special, regularly $212.00 NOW $99.99 (while supply lasts)
The Gourmet Village Mixed Drink Boxed Sets 50% off as marked
Specially Priced Nachtmann Decanter Sets and Global Knives Gift Sets (while supply lasts)
20% off regular priced Sophie Conran dishware and Nachtmann crystal
Cheese Department
Cathy is very excited about all the beautiful cheeses that have been ordered and will soon be making their appearance. She has specially ordered cheeses for holiday entertaining – cheeses that will make lovely conversation pieces and be sure to dazzle guests.
A Taste of Spain continued…Ole!
We will be enjoying a taste of Spain by sampling two very lovely Spanish cheeses. After sampling these beauties, be sure to try Margot's Tapas and Paella!
Cabra al Vino
Queso de Cabra al Vino, which hails from Jumilla, in Murcia, Spain, is a drunken goat cheese that has been submerged in a bath of Doble Pasta wine for 72 hours. This submersion gives the rind a beautifully vivid purple hue.
Mild, sweet, and fruity, this goat cheese has a smooth, creamy, semi-firm texture. Pair with a bold Spanish red, such as Rioja, and figs.
Manchego 12 year DOP
The Manchego is a sheep cheese produced in the La Mancha region of Spain, also home to Don Quixote. It  is one of the most popular Spanish cheeses.
Our Manchego cheese, aged for a year, is crumbly in texture and has a sweet, lingering taste. Manchego cheeses are best paired with a sherry.
Rocce Sarde will also be sampled this Saturday. You'll love this beautiful, fresh cow and sheep's cheese, handcrafted in Sardinia, Italy.
Provolone
Provolone is a delicious, versatile cheese that can be used in many lovely recipes. Here are a few ideas on how one might use this delectable cheese…
Pizza – Sandwiches – Quesadillas – Enchiladas – Stuffed Mushrooms – Open-Faced Bagels – Pasta Salad – Sliders – Garlic Cheesy Bread – Prosciutto Provolone Panini – Skewers – and so much more
Find a very nice Italian Provolone in our coolers!
Gift Basket and Cheese Tray Order Reminder
Don't forget to order your Gift Baskets for colleagues, clients, neighbors, friends and family. You might also like to order a beautiful cheese tray for that holiday party or get together you are planning.
Just call 905-885-9250 or stop by.
Panettone
Panettone from Italy is back for the season along with all sorts of other lovely treats that are especially enjoyed during the holidays. Find a great selection at Herma's!
We look forward to seeing you this weekend and throughout the holiday season.
Sincerely,
Meredith Ender
Communication Coordinator
Herma's Fine Foods & Gifts