Herma's News – A Taste of Spain, Special Guests this Saturday, Cheese, Night of Tapas Food Suggestions
Everything you can imagine is real. – Pablo Picasso

Dear Customers,

We look forward to this Saturday as we get to meet special guests for A Taste of Spain event. It puts us in mind not only of delicious foods imported from Spain, but we also desire to emulate the way in which the Spanish entertain – slower paced which is more relaxing for guests.
Join us for A Taste of Spain
Saturday, September 16th between 11 a.m. and 3 p.m.
Meet special guests Omar & Remi as they showcase their Spanish foods.


Una Noche de Tapas (A Night of Tapas)
Nothing slows the pace of an evening and puts your guests at ease quite like a night of Tapas. Tapas is the Spanish tradition of enjoying multiple small plates of simple, yet exciting foods, brought out one after the other without being rushed. For optimal enjoyment, of course, be sure to set the stage with candlelight, music and the perfect wine pairings.

History

Tapas first began in the 19th century in the south of Spain in a place called Andalusia. Tapas translates to the word "lid" in English as it became tradition for a cafe or drinking establishment to place a small plate with a free nibble on top of one's glass presumably to protect the drink from flies and dust. As time went on however, these plates of nibbles became more of a tradition throughout Spain.
5 Tapas Suggestions
photo by Divina Market
Olives served with Feta
Seafood Paella with Chorizo Sausage
Shrimp pan fried with Caramelized Peppers, Olive Oil and Garlic
Toasted Almonds served alongside Gazpacho (a cold vegetable soup)
Toasted Manoucher Baguette served with Manchego Cheese and slices of Chorizo. Finish off with a drizzle of balsamic.
How to prepare Chorizo?

Slice chorizo and fry pieces with a little garlic until the edges of the meat start to crisp. Add Spanish red wine and cook until it begins to reduce.
Consider Tapas on a Stick…
Ingredients1 Manchego Cheese Curado (a generous 5 ounces)
Chorizo (&/or salami, halved and quartered)
Jar of Green Olives (large pitted, Spanish)
Jar of Black Olives (large, such as Kalamata)
Skewer suggestion in this order…olive – sausage – cheese – a different colored olive – sausage – second piece of cheese
Tip: If your olives are packed in brine, drain them and then drizzle with a little olive oil before skewering.
Herma's Cheese Shop – Five Spanish Cheeses
Queso de Oveja with Romero – This is a raw sheep's milk cheese from Spain that is covered in a fragrant layer of rosemary.
Oveja Curado Infiero – This Spanish ewe's milk cheese is infused with spicy red peppers – an added heat which provides perfect balance.
Boletus – This delicious sheep's milk cheese from Spain is infused with Porcini mushrooms – earthy and delicious.
Manchego Curado – From Albacete, Spain, this is a raw sheep's milk cheese aged 5-6 months – caramel and nutty.
Manchego Viejo – This is a raw sheep's milk cheese aged 12 months – firm, crumbly and sharp similar to a Pecorino.
Manchego Cheese
This type of cheese is produced by Manchega sheep that roam the La Mancha region of central Spain. It has a distinctive flavour – well developed but not too strong, creamy with a slight piquancy. It also leaves an aftertaste that is characteristic of sheep's milk. A distinctive characteristic of this cheese is the imprint of a woven basket pattern created by the use of a grassy mold. Manchego is probably the most famous Spanish cheese and it should be a staple in any of your tapas recipes.Pair with fruity wines such as Tempranillo or Verdejo. Alternatively, also enjoy with a dry Sherry or Malty Beer.
Cheese Special – 25% off a specially ordered 5-month-old Manchego
(Offer lasts only during our Taste of Spain event.)
Cheese Condiment Suggestions from Spain
photo by Origen
Red Wine Jam
This jam is made with 60% of DOP Jumilla Spanish red wine, making it a unique and flavorful addition to your cheese plate or charcuterie board. Offering you a taste of southern Spain!
Other ideas for use…Add a swirl of Red Wine jam to your morning oatmeal. – Mix with goat cheese and serve as a spread or on top of an appetizer. – Use as a glaze for chicken or pork chops before cooking. – Spoon over vanilla ice cream. – Pour into a saucepan and heat until bubbling for a tasty syrup to drizzle over pancakes and waffles.
Fig Jam
Featuring hand-selected fresh figs from the Murcia region of Spain, the soft, honeyed fruit of this spreadable superstar will add a new dimension to much-loved cheeses. An easy yet delicious treat, Origen Fig Spread is perfect for taking your antipasto offerings to the next level.
Other ideas for use…as a glaze for meats or vegetables – Mix with balsamic vinegar for a salad dressing. – Use as a filling for crepes or turnovers. – Spread on toast or bagels for breakfast. – Swirl into yogurt or ice cream.
Charcuterie
While we do have some delicious Chorizo in our coolers, please note that we also offer an Italian Prosciutto, Fennel Salami and Culatello Cotto Ham with Herbs that may be sliced to your liking.
NEW at Herma's
Valencia Almonds – Dried Black Olive, Sea Salt
This mix is crunchy, piquant and olive forward. Briny dried black olives and perfectly seasoned Valencia almonds make a sophisticated match for your favourite drink from a Negroni to a vintage red, taking your cocktail hour to the next level. Best served with vermouth, red wine, Negroni, martini.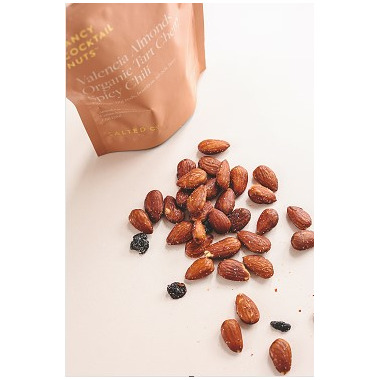 photo by Salted Co. Fancy Cocktail Nuts
Valencia Almonds – Tart Cherry, Chili, Sea Salt
A generous dusting of red chili on tart cherries with Valencia almonds create a subtle heat that builds, priming your taste buds to appreciate the fresh plum in your favourite light red or the smoky bite of bourbon and scotch. A natural pairing with beer.
Keeping an open mind – literally.
Be sure to treat yourself to some of life's great pleasures with a visit to Herma's. Have a glorious weekend!
Sincerely,
Meredith Ender
Communication Coordinator
Herma's Fine Foods & Gifts

You may also visit us on our Facebook Page and Instagram.